Meet Chicana Tatiana Hazel, the Singer-Songwriter and Designer That's Taking Over
Tatiana Hazel has been listening to a lot of pop. Following the release of her EP "TOXIC" last summer, the Chicago-based singer and songwriter is putting the final touches on her next project. Although she can't point to specific sounds that inspire her music— "everything that I've ever listened to" — the 22-year-old is quick to respond when asked what she's had on repeat while finalizing her upcoming EP: Lady Gaga, Charli XCX, Madonna, Cher.
All the artists she lists have made names for themselves through their distinctive sound and style (or evolution thereof), and Tatiana herself is no different. She first began making music as a preteen and quickly gained a large following for her scene-kid-esque YouTube videos. Now, "TOXIC" and a string of irresistibly upbeat singles — most recently the unapologetic "Again and Again" — have once again built a base of dedicated fans around her.
Her lyrics weave through personal reflections, the rise and fall of relationships, and the struggle of being late for work, all with the ambitious energy of someone who knows they're on a path towards something bigger. Although her writing process flowed mostly in English when she first started making music, something changed when she penned "Dimelo" in 2017. "Ever since then, it kind of opened me up the possibility for me to write in Spanish — like okay, I'm able to do this," she says.
In the infectious song, Tatiana's voice, reminiscent of Shakira and Alanis Morissette, slides over a pulsating beat as she asks her lover to open up to her. And like her unique vocal timbre, Tatiana's tracks sound unlike anything else: predominantly electro-pop, with neo-cumbia and R&B influences. Another Spanish single, "No Me Encuentras," appeared on the soundtrack of Jacqueline Priego's brilliant Latina workplace comedy PinkSlipped.
Tatiana produces a lot of her songs entirely by herself, she tells me, but also speaks highly of her experience working in the studio with Chicago producers Ikon and Drew Polovick. They talk through all creative decisions together for it to feel like a real collaboration. "It's cool because it's hard when you're working with male producers, being a female artist, it's hard to find people who will really respect your vision and not try and take control," she explains. "So they're very laid back, and my vision is always in the forefront."
And vision is really the word that can best be used to describe Tatiana. Hailing from a city known for its independent musicians — perhaps you've heard of one named Chance the Rapper — she's determined not to sacrifice any of her creative control. After a couple of years studying music business at Columbia College, she realized she had the understanding she needed to leave school and keep building her career on her own. Now, she takes the same approach when it comes to her decision not to be represented by a label.
"I'm not one of those people who's like 'I only want to focus on the music, and I want somebody to do everything else.' That will be nice one day, but right now I'm really hands-on, so I feel like I don't want to take all this work that I've built for myself and have somebody just take a huge percentage and push it," she says. "I feel like I'd rather put in more work but have it be more of my own."
Her fans have noticed. Whereas before she felt like she was putting music out and hoping it would be well-received, Tatiana now knows there's anticipation surrounding her releases. In 2018, she headlined her first show in Chicago and performed a span of festivals ranging from Texas Latino Pride to Art Basel Miami. The traveling is exciting primarily, she says, because she gets to meet the people who send her encouraging DMs on Insta face-to-face.
And the messages aren't just about her music. Tatiana's been designing her own clothes for a little over a year now — she taught herself on YouTube — and runs an online shop with outfits that have been worn by Kali Uchis and Jamila Woods (nbd). "I just made it for myself for performance purposes, really, and it never really crossed my mind to be a designer or that I was designing. I just kind of was doing it," she explains. "And then through Instagram, posting on my stories and stuff, that's what kind of sparked sales because people were requesting a bunch of custom orders once they saw the things I was making for myself."
She released a line called TOXIC to correspond with the EP and is gearing up for another collection tied to her upcoming project. The handmade pieces on her shop include sparkly jumpsuits Selena herself would be proud of, a metallic flame pencil skirt and crop top, and a tripped-out rainbow velvet romper.
With two booming creative endeavors, it's hard not to ask what she does on her downtime. She likes reading comics and playing video games, she says, but Tatiana's answer also speaks truth to just how dedicated she is to her blossoming career. "For the most part, when it's my own projects, I'm okay with being in the studio from 12 to 7 and then getting home and finishing a design," she says. "That's cool with me because I really love it, so it feels like self-care."
WRITTEN BY ISABELLA GOMEZ
IMAGES By Kyle La Mere
Follow Tatiana Hazel on Instagram, Twitter, Facebook, and YouTube. Keep up with her new music on SoundCloud. Listen and watch her latest, "Imma Be":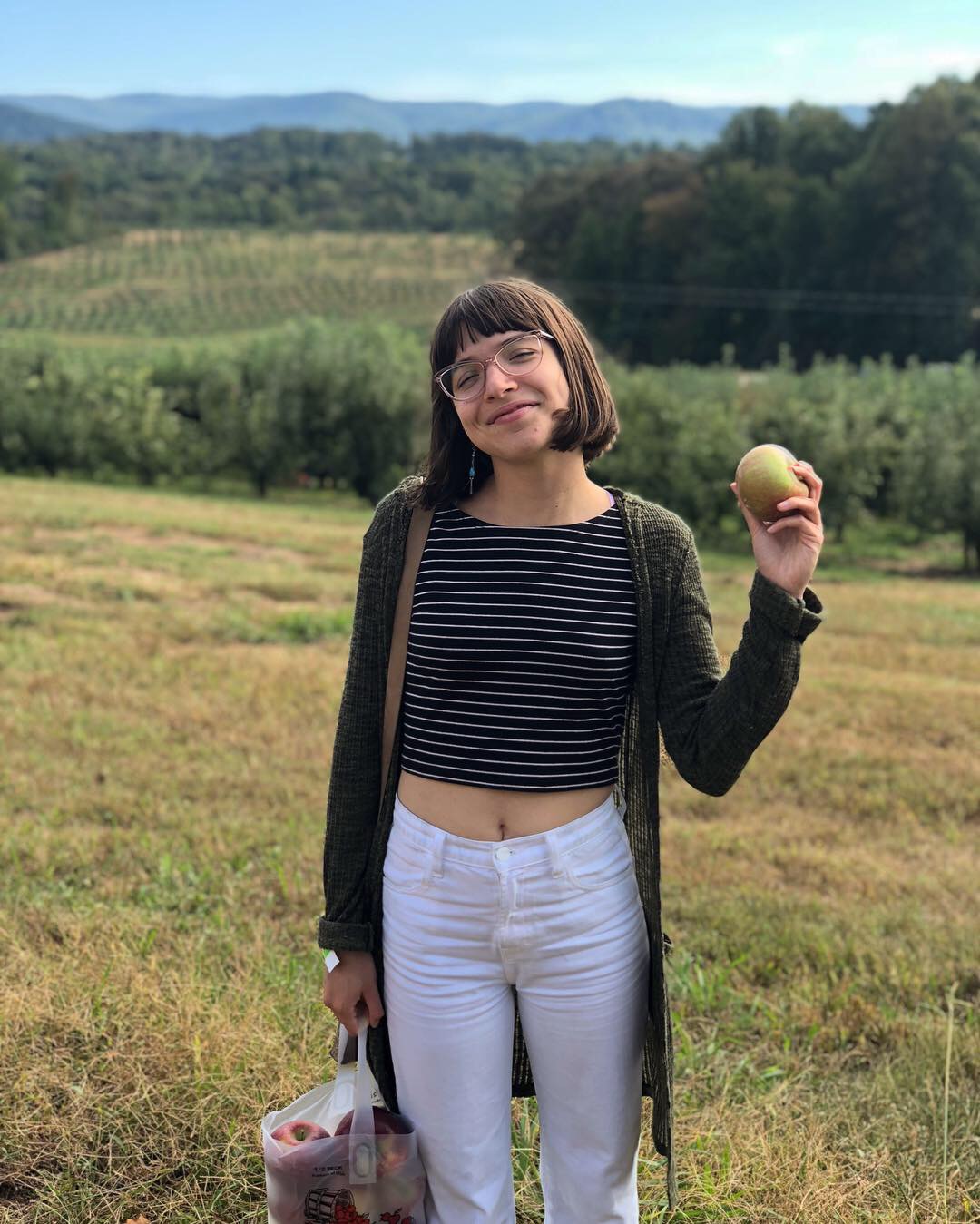 Isabella Gomez is a Venezuelan writer based in Atlanta. She is currently finishing her B.A. in Journalism with minors in Film and Gender Studies at Georgia State University. She loves covering the intersections of culture, politics, art, and activism and has written about these topics for Teen Vogue, CNN, Bustle, Unsweetened Magazine, and more. Isabella is a hardcore Shakira stan and wants you to not be afraid to own your #BigLloronaEnergy."
Follow Isabella on Instagram: @isabellamariags