Emmy Nominated Digital Producer Ana Bretón Wants Latinas to Rule Television and We Do Too
When I first met Ana Bretón in January 2017 during a planning meeting for La Marcha De Mayo, a rally celebrating immigrants which she co-organized, I immediately fell in love with her boundless energy and devotion for our Latinx community and al pastor tacos. Since that momental winter day, I've had the privilege to become friends with Bretón and witness her rise to the Emmy nominated comedy powerhouse that she is today.
As a proud Mexican and digital producer for Full Frontal with Samantha Bee, Bretón regularly works on issues facing the Latinx community like the Emmy nominated, The Great American* Puerto Rico (*It's Complicated) special and recently the it-better-get-nominated-for-all-the-awards "Christmas on I.C.E." special. For the Christmas special, Bretón co-produced a segment about asylum seekers on the Mexico/U.S. border, which was inspired after meeting up with one of her friends, Natalie Montelongo, a fierce Latina who works for the American Civil Liberties Union (ACLU). Bretón recalls thinking, "Montelongo had spent some time volunteering at immigrant shelters on the border over the summer. Everything she described—the conditions the asylum seekers were in, the few resources they had, how people were treated in detention centers…made my body turn into a cold sweat. I felt like I had to do something."
In addition to working at Full Frontal full-time, Bretón is directing and producing a new reality show called RUN. "It's like Queer Eye, but with a team of women helping a female political candidate run for office," she says. Not only is the show improving representation in politics, Bretón is making sure its improving representation behind the camera as well. "One very cool thing about the show is that I'm in charge of hiring the crew—and I've placed a heavy focus on hiring women of color. And guess what? It was a very easy thing to do."
In fact, Bretón's career aspirations are all about better representation in media. "I want to produce and create TV shows and media that center the Latina experience. I want to tell the stories of Latinas and have as many women of color and LGBTQ women working behind the scenes as I can. I want to create this door and just let in as many Latinxs and people of color as possible. Just a never ending rotating door."
Bretón has a lot to be proud of in her still flourishing career, but she boasts taking her parents to the Emmys as her proudest moment. "They worked so hard and sacrificed so much to help me get where I am today that taking them to the Emmys was a way to thank them for their sacrifice. Never in my right mind did I think a little girl from Mexico City would end up going to the Emmys—twice. It was a completely unforgettable experience."
If you are like me and want to follow along in Bretón's footsteps, the best advice she can give is to be yourself and keep going. "Don't change your voice for anyone because no one has the same experiences as you. And hit me up on social media so I can uplift your projects!"
Find Ana Bretón and connect with her on Twitter here.
WRITTEN BY ANA DEFILLO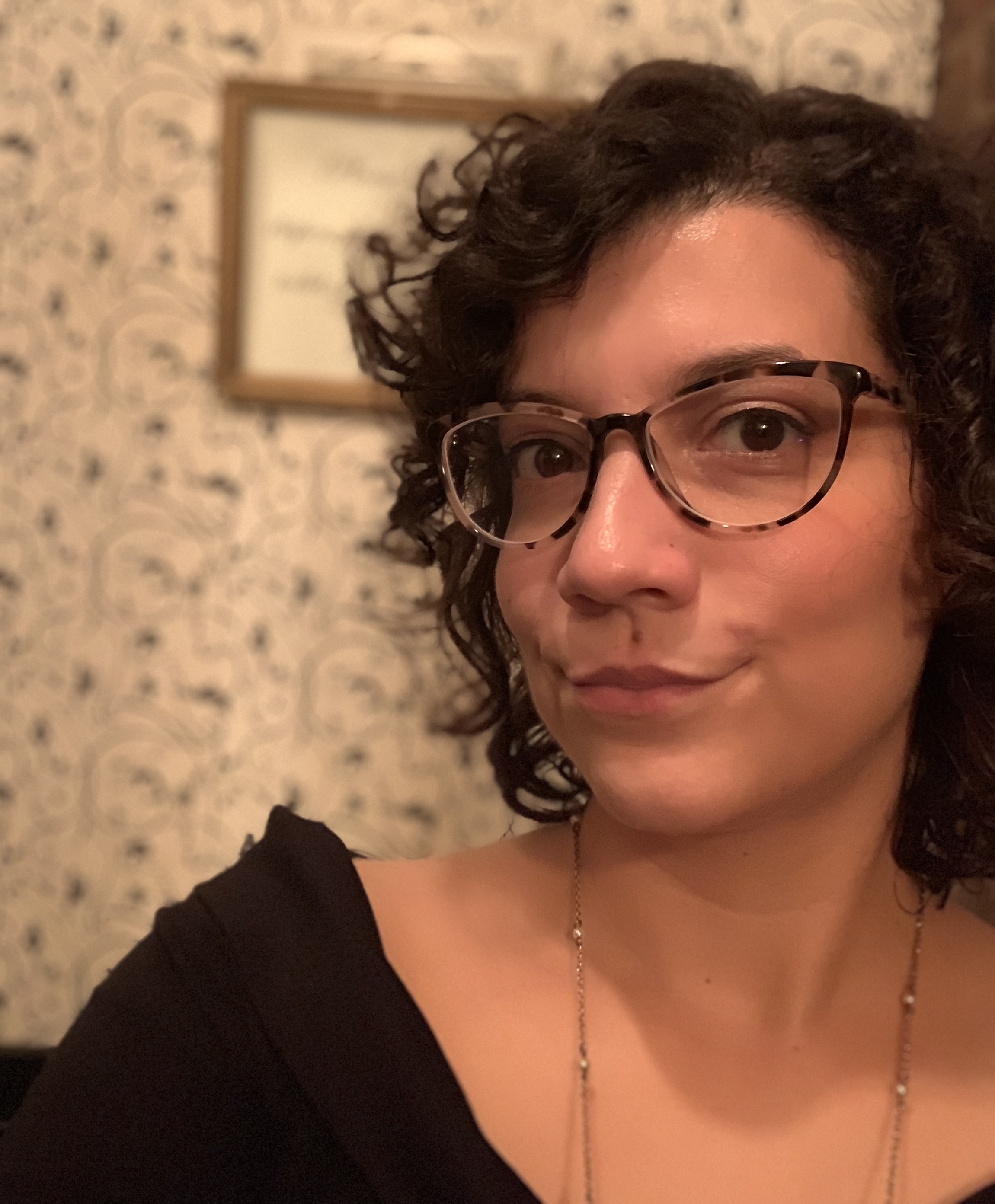 Ana Defillo is a Caracas-born, Miami-raised, NYC-based Dominican, writer, performer, and Prince lover.
Ana marries her love for politics, intersectional gender and racial justice, and pop culture as a freelance writer and as a sketch performer and improviser around NYC. Her writing has appeared in publications such as Teen Vogue, Mic, HelloGiggles, Remezcla, and Americas Quarterly.
Ana holds a Masters in Global Affairs from New York University, a graduate certificate in Human Rights from Columbia University, and a very useful BA in Cinema Studies from the University of Central Florida. She's studied sketch comedy, improv, and satire writing at the Upright Citizens Brigade, The People's Improv Theater, and Second City.
You can catch her on Twitter at @adefillo