5 Savvy Spring Cleaning Tips for Your Money
During the spring season, we tend to practice the annual ritual of spring cleaning--where we give our home a deep, satisfying clean and get rid of items around our casitas that have gone unused. But when we're done sprucing up our homes, it's a good time to add another task to organize in our checklist: our finances.
Natalie Torres-Haddad, a TEDx speaker and international award-winning author of the book Financially Savvy in 20 Minutes, shared with us her top 5 tips for getting our finances in order during this season. With her help, we'll get our financial records and all that messy drawer of receipts (because you know we all have one) en orden y listo for the rest of the year!
1. Declutter Your Paper
Set small goals to declutter your home or office. Take 20 minutes out of your day to clean out file drawers, sort out receipts, and/or clean out your closet with the excess old financial paperwork from years prior.
2. Track Your Spending
Take on the challenge of keeping a small notebook in your purse to write down and figure out exactly where all your money is going. There are tons of apps out there, but nothing replaces the feeling of immediately writing down your expenses so that you're truly aware of what exactly you are exchanging for your hard earn money and time. Just like when you are losing weight or focusing on becoming physically fit, your trainer will ask you to be honest and write down everything you eat and drink to better understand your habits and make recommendations that will help you achieve results. For example, keeping track of where every dollar is going can show you how that snack a day that your were spending $10 a day during your work week could easy turn into an extra $3,360 a year.
3. Organize Your Bills
A daily routine can reduce stress and keep you organized too. When you pick up your mail don't toss it in the basket in front of your home entrance. Take a couple of minutes to sort through the mess, toss junk mail out, and put personal bills to the side to read immediately after. This act will put you in a good mood and put your bills in its own organized stack. Chances are you are getting bills everyday. Now, when you sit down every week or so to pay your bills it's less overwhelming.
4. Set 2 Goals Per Quarter
I created a goal sheet, that I can provide to you provide to those who are interested, where I recommend breaking down your goals per quarter. Too many people start off each year with too many goals in mind and set themselves up for disaster. If you choose the top 2 to focus on every quarter, such as paying off one credit card or launching your side hustle, you become more encouraged to spend time and money to realize those couple of goals instead of spreading yourself too thin and feeling defeated.
(If you are interested in receiving the goal sheet, you can contact me, Natalie, directly here: financiallysavvylatina@gmail.com or on any of my other pages included below.)
5. Get Rid of that Runaway Spending
Most of us struggle with this because it really is a habit we need to break or learn to incorporate new habits. Take out food and the pleasures of buying your daily coffee is the most difficult one for most of us. Start with little alterations. So, instead of buying take-out 5 times a week, cut 1 take-out out of your routine a week until you eventually have it down to once a week or even none a week! Your body and wallet will thank you.
INTRODUCTION BY MARIVETTE NAVARRETE
WORDS BY NATALIE TORRES-HADDAD, MPA
IMAGE FROM BURST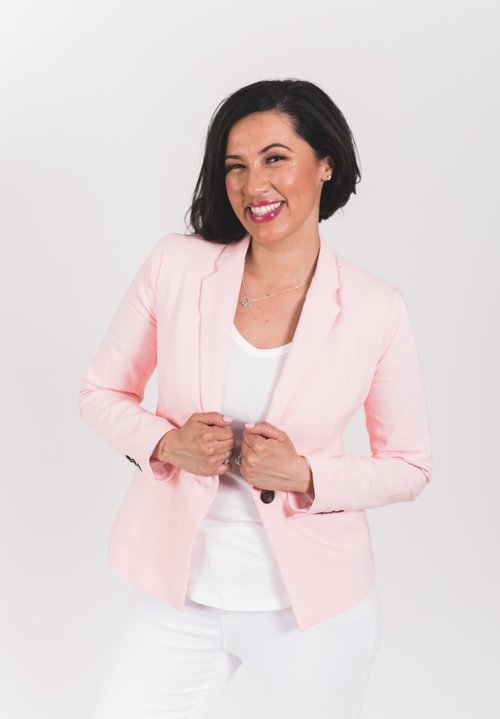 Natalie Torres-Haddad is a TEDx speaker, and the first Salvadorian- American on the TEDx Platform where she advocated for Financial Literacy in her talk titled, "The Foreign Language of Financial Literacy". She is also an International Award-Winning author for her book Financially Savvy in 20 Minutes, which is also the name of her podcast. In her podcast, which can be heard the first and last Friday of every month, she interviews self made millionaires, shares their tips, tricks and all things money under 20 minutes. She is the youngest winner for the National Magazine Minority Business Entrepreur's Who Rock in 2016. She is a first generation college grad, making her part of the 4% of Latinos with a Masters Degree in the US. An Immigrant, raised in Inglewood, CA, Natalie has traveled to over 30 countries, bought her first property by the age of 24 and several more ever since. Her activities have been featured in the Huffington Post, LA Times, Fox News and Univision. She believes together we can change ourselves and our communities.
Follow Natalie on her website or social media platforms for more tips:
Facebook: Natalie Torres-Haddad
Instagram: Financially Savvy Latina
Twitter: FinSavvyLatina
Visit her website:
www.financiallysavvyin20minutes.com